As the founder of The Designer CPA, I have worked exclusively with interior designers for most of my career.
I spend most of my days in interior design software and I see how things change every year. But, here's the thing, the decision on what software you should use shouldn't come from me, nor should any other outside vendor tell you what you have to use.
The biggest difference between these software options is whether or not your accounting needs will be found in QuickBooks Online or found in the all-in-one software option. While there is no right or wrong, I would recommend having someone still review the details even if you use an option that "integrates" into QuickBooks Online. The integration for any software into Intuit's QBO is not perfect and requires a human's set of eyes.

Each software has pros and cons, and it is important for you to choose the software that works best for you and your team in your unique business.
Let's dive in to see what has changed over the last few years since our last blog.
Design Manager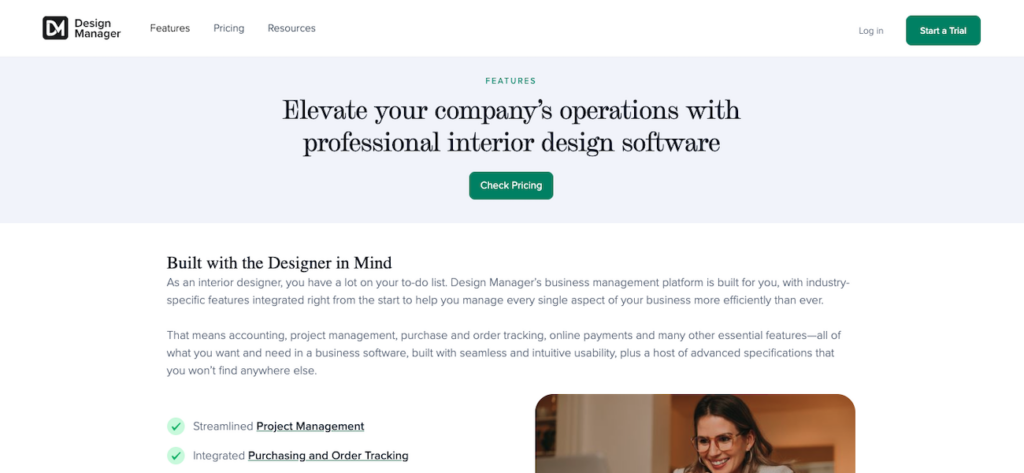 The team at Design Manager is promising great things with an update in 2023. While I have not seen the new software at the time of this writing, the use of Citrix is expected to end and the new release is strictly going to be on the "cloud".
I am hearing that the great things that have made Design Manager who they are since 1984 will not be going away.
The software will still be an all-in-one option—with project management and accounting all in one. You will still have access to many different reports to let you track how well your business is doing by project.
The Pros:
You only need one subscription since the project and accounting is all in one software. Pricing is $65/per user / per month at the time of writing. You do not have to also pay for a QuickBooks Online subscription because all accounting is done in DM.
Comprehensive Reporting – All of my clients that use DM love the reporting features so they can keep track of the profitability of each project. This allows them to adjust after every project to maximize profit. All the details for your projects are available in the reporting. A software that can provide this information can really make you and your team's lives easier to make decisions that allow for greater profitability.
The Con:
Time consuming – In order to review comprehensive reporting, data input can take longer to enter. My clients that use this software either have an internal employee that enters the information or a bookkeeper who specializes in the software. Your bookkeeping fees may be higher than a different business that strictly uses QuickBooks Online for their accounting solutions.
Explore Design Manager
Ivy / Houzz Pro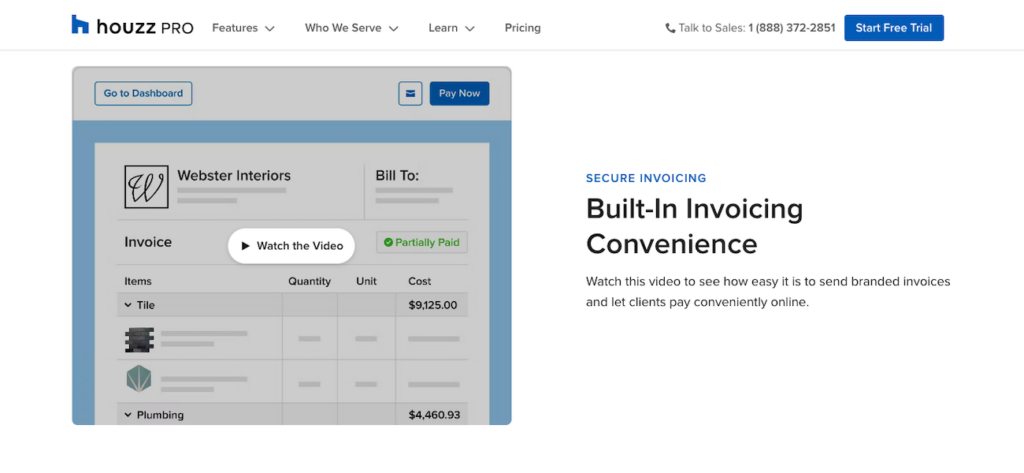 With Houzz purchasing Ivy, more and more Ivy customers are finding out it is time to transfer to Houzz Pro. If you are still using Ivy, you may want to take a deeper dive in the Houzz Program to make sure that the software will still meet your needs.
This software does not have all-in-one accounting in it, so a separate subscription to QuickBooks Online is required. Ivy / Houzz Pro currently has three different options for subscription Current Prices: 1) Starter $65/mo, 2) Essential $99/mo, and 3) Pro / $149/mo.
If you combine the software subscription for QuickBooks Online, the total fees are much higher than the softwares that provide an all-in-one accounting and project management solution
The Pros:
Clients say the software looks beautiful compared to other options
Receiving payments from clients may be easier
Project management is easier and less time consuming to enter in this software
3D Floor Plans
The Cons:
The reporting available leaves much to be desired when you compare the comprehensive reporting in all the other software we are reviewing
The integration with QuickBooks Online is wonky at best. The issues with the integration shutting down or some items not importing can be an accounting nightmare
There have been many stories of questionable practices with Houzz that should be researched before deciding if the software is best for your company.
Pro Tips:

When filing sales tax, do not rely on the sales tax reporting in QuickBooks Online. I would suggest making sure you are using the Ivy reporting when filing your company's sales tax

QuickBooks Online provides very generic chart of accounts. You can customize your accounts to be interior design industry friendly using this template.
Explore Ivy / Houzz Pro
Mydoma NEXT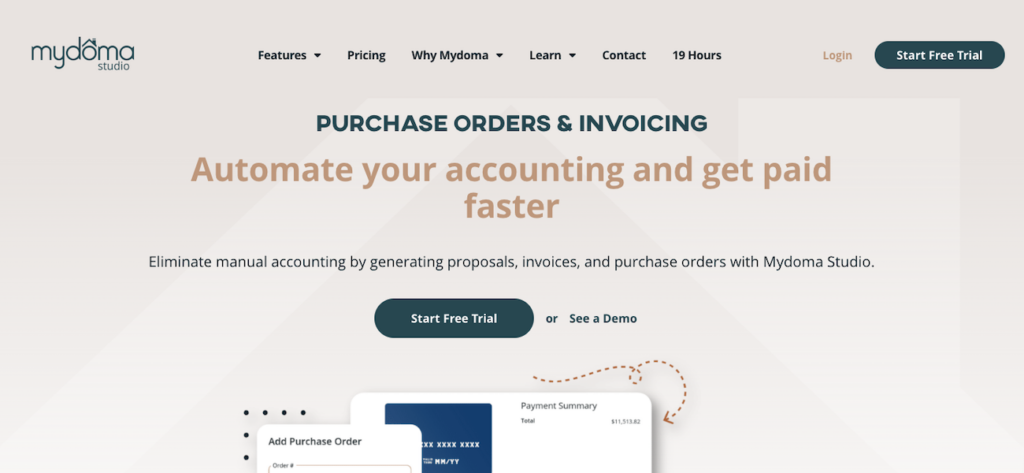 MyDoma upgraded their software to MyDoma NEXT in the Spring of 2022. We sat down with the MyDoma team to learn more about the details which you can review here.
Like Ivy/Houzz, MyDoma does not have all-in-one accounting in the same program. MyDoma pricing is based on the number of team members you have, and can range anywhere from $59 to $129 per month. Keep in mind a subscription to QuickBooks Online will also be necessary for your accounting needs.
The Pros:
My clients say the Visualizer, Client Portal, and Clipper is easy to use and looks great to present to their clients
Contractors and clients can have access into the Portal to see everything they need to on their project
You can review project specific reports in the project management software
The Cons:
A second subscription will have to be paid for with QuickBooks Online besides the MyDoma NEXT subscription price
Only paid invoices can be exported to QuickBooks Online, so if you want project specific information in QuickBooks Online, it will have to be entered manually a second time in the accounting software.
Pro Tip:

When filing sales tax, do not rely on the sales tax reporting in QuickBooks Online. I would suggest making sure you are using the reporting in MyDoma NEXT when filing your company's sales tax
Explore Mydoma NEXT
Studio Designer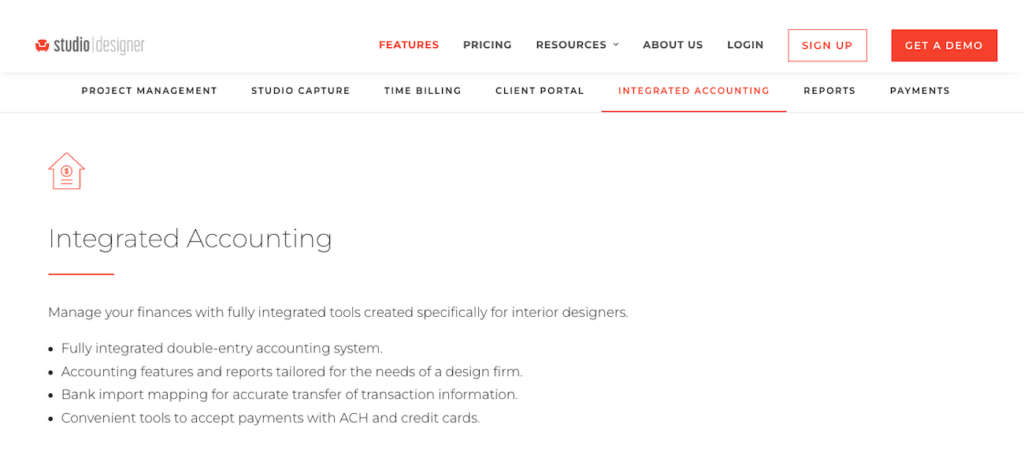 Studio Designer completed an upgrade to a 2.0 version in the summer of 2019. Many of my clients enjoy this software now that the kinks of the upgrade seem to be resolved.
Studio has two different payment options: Basic for $54/user and Professional for $72/user
What is the difference? Professionals will give you access to time billing, calendars, and activities. If any of these options are important to you, investing in the professional would be best.
The Pro:
Just like Design Manager, the comprehensive reporting can not be beat. Having access to profit details allows you to maximize the profit of your business.
The Con:
More time consulting to enter details in order to review this comprehensive reporting
Pro Tip:

If you decide Studio Designer is the best software for your business to use, I would recommend hiring a bookkeeper that works exclusively with the program. They are experts and have familiarity with the nuances of the program.
Explore Studio Designer
Are you already a user of one of these platforms?
Sharing your personal experience could help other Interior Designers make a better decision for their business. Let us (and others) know how it's going in the comments below!
---
Ready to optimize your accounting?
Check out our Resource Lab for courses, templates, and tools.
---